We stayed Japanese traditional hotel that is called Ryokan near Kawaguchi lake in Yamanashi prefecture Japan.
We arrived near our Ryokan, Huge Mt.Fuji came up.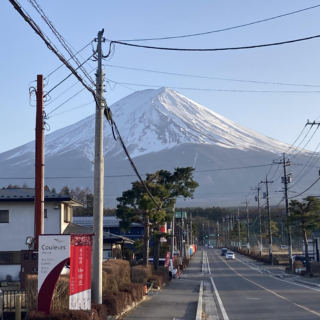 The hotel we stayed in SHUHOUKAKU KOGETSU where you can enjoy the view of Kawaguchiko and the magnificent Mt.Fuji.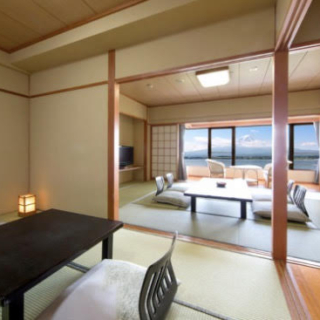 I took Mtr.Fuji from my room.
You can view Lake Kawaguchi and Mt.Fuji from your room also view them from spa ( Onsen )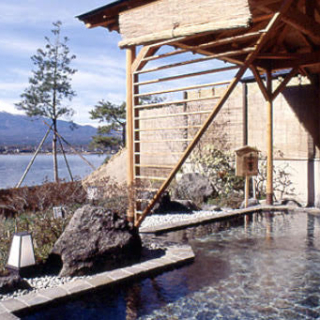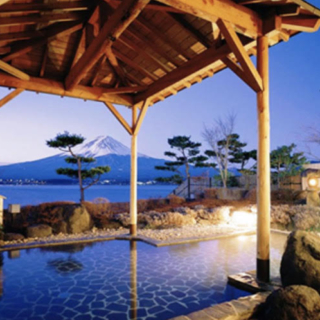 This lake ( Kawaguchi lake ) is very famous, I took Mt.Fuji from the private beach of this hotel too.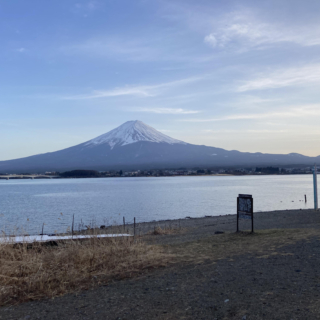 Mt,Fuji is the highest mountain in Japan. It is 3776 meters above sea level and has a diameter of 44 kilometers.
Mt Fuji is an active volcano which is located between Yamanashi and Shizuoka prefectures.
In June of 2013, Mt. Fuji was registered as a World Heritage site.
Mt. Fuji is a stratovolcano and has erupted several times.
Mt. Fuji is considered to be the symbol of Japanese beauty and is often drawn in many art pieces.
The most famous art piece of Mt. Fuji is called "Gaifu Kaisei" drawn by Hokusai Katsushika.
Mt. Fuji is also printed on the 1000 yen bill.
Mt. Fuji is painted on the walls of many Japanese public baths (Sento) too.
February 23rd is established as "Fuji-san Day" since the number rhymes with Mt. Fuji.
There are several lakes around Mt. Fuji.
Lake Yamanaka, Lake Kawaguchi, Lake Saiko, Lake Motosu and Lak Shojin. These lakes are often known as the"Fuji Five Lakes".
The lava flow from numerous volcanic eruptions created the five lakes
There are four routes to climb Mt. Fuji; Fujinomiya route, Gotenba route, Subashiri route and Yoshida route.
Fujnomiya, Subashiri and Gotenba routes are located in Shizuoka, while Yoshida route is located in Yamanashi prefecture
Yoshida route is the most famous route since it is known to be the easiest route to climb
There are many sightseeing spots around Mt. Fuji and it is full of climbers and tourists in the summer.
Mt. Fuji officially opens in early July.
It is recommended for beginners to climbing Mt. Fuji around July to September.
The best time to climb is from the 20th of July, which is after the rainy season, to September.
Even during the middle of Summer, the summit of Mt. Fuji can be as cold as 6 degrees Celsius.
By mid-September, snow will start to fall and the ground will freeze. Even if you are successful at climbing up, it is difficult to climb back down.
By the way, the second-highest mountain in Japan is "Kita-dake" which is located in Yamanashi prefecture.
On New Year's Day, many people climb Mt. Fuji to see the first sunrise and wish for health and luck in the new year.
When you ride on the shinkansen (bullet train) bound for Kansai region from Tokyo, you can see Mt. Fuji on the right side.
You cannot see Mt. Fuji from the shinkansen when the weather is gloomy.
It is better to ride in the morning to admire the beautiful mountain.
We had a wonderful dinner with Washoku ( Japanese foods ) they were very delicious.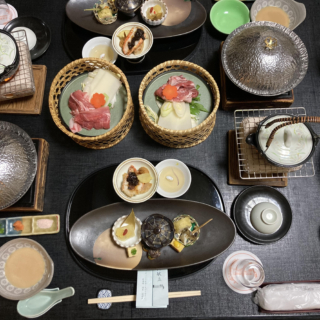 We wore Yukata and had dinner ( Japanese traditional clothing ).
Why don't you stay in Ryokan and had a good time with Onsen and dinner wearing Yukata?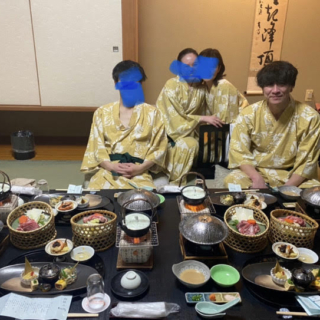 The most widely known symbol of Japanese traditional Summer outfits, Yukata are light and simple long robes, similar to Kimono in their shape but much more informal and easy to wear. They are usually worn during Japanese Summer events such as Matsuri or Fireworks Festivals.
Female model: 165 cm
Wearing size: L
Wearing pattern : 994-12p
Cotton 100% Made in Japan
This can be washed in the washing machine.
This texture is similar to a cotton T-shirt
Male model: 184 cm
Wearing size: LL
Wearing pattern: 976-17n
Cotton 100% Made in Japan
This can be washed in the washing machine.
This texture is similar to a cotton T-shirt